Hi world!
I am so excited to announce you I am participating in my first blog hop with some other great quilt pattern designers! It will be great!
Now, that the quarantine has stocked to all of us at home, with more time to think and work, new enterprises among designer has emerged. One of this project is this Blog Hop, with which we will offer you one free pattern from every designer and every month! And do you know why have we called it Quilt Blog Mania (#quiltblockmania)?, then because we have reached to be 29 designers enrolled this first month! And yes! I am saying, 29 designers, which means you have 29 free patterns to choose and make a beautiful quilt, and yes! I am saying first month! Because we have in mind repeating the Blog Hop next months, August and September, with different themes.
For the first shoot, and with summer here, it is time to make some refreshing and colorful creations. So the theme for this one is "Summer Fun"! We have all created a pattern related to summer, with the same colors and all them 12″ square size, so if you like can make a quilt catching the patterns you like most, or download all them and make what your imagination inspires you! This will be very funny to see all your creations with our patterns!
And this is my pattern for this Quilt Blog Mania – Summer Fun. A HELLO SUMMER quote pattern which combines Foundation Paper Piecing and Traditional Piecing. You can combine this block with some others to make a beautiful summer quilt. This is a pattern created with some letters of my International Modern Alphabet, adapted to color the background with two fabrics and a little bit smaller than the originals ones. It is an advanced skill pattern as it has some very tiny pieces. The pattern contains the letter templates to sew them, assemble instructions for the full block and a design sheet so you can color the pattern to make your own version.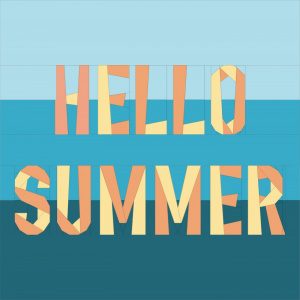 I am offering this pattern as a gift to all my newsletter community, so, to get my pattern, you only has to subscribe to my news and you will receive a direct link to download the pattern. You will receive the pattern in the language you subscribe (English, Spanish or Catalan) and if you subscribe in English you could choose between the Letter or A4 sheet sizes for the pattern. And if you are already a subscriber you must have received an email with a link to download the pattern, if not, check the spam folder or let me know.
From 4 August, a new Blog Hop, Back to School, is alive and you can get the pattern I was offering this time, the Origami Paper Plane if you become part of my newsletter community. And starting at September 1st, with the Blog Hop-Halloween can get you the Creepy Eyes! So, from now on, if you join my community you will receive 3 fantastic patterns for free. Don't miss them!
Here you can see the blocks sewn for my testers Sarah (@acroncornerquilts) and Susanne (@suse68sch), two great quilters you can't miss their work. Two different blocks that show you the possibilities you have with this pattern and I hope they inspire you.
And if you are not familiar with the Foundation Paper Piecing technique and you want to learn it or practice a little more, I invite you to join my Facebook group where you will find 5 lessons and a free pattern to learn/practice the FPP technique. Also, there, I can help you with any questions you may have with my patterns or this fantastic technique that allows us to sew wonders with high precision.
How the Blog Hop works
Every designer is offering at her blog the unique pattern she has designed for this event, for free. So, all the patterns has been released the same day, 7 July.
All the patterns will be available for free until the release of the next Quilt Blog Mania on August. Then, some of the past month patterns will remain free.
To get every pattern you have to visit the blog post of the designer and follow her instructions to download it.
And that's all! You only have to imagine, choose the patterns and start sewing! I can't be more expecting to see all your creations!
Here you have a list with all the designers participating in the event, a graphic/photo of the pattern every one is offering and a link to the designer blog.
If you are searching for other refreshing summer patterns, here I show you my Marine Series Origami Animals. These are 6 Foundation Paper Piecing patterns to create this minimalist animals which any kid will love to have it hanging in his/her room wall or in a fabric bag. All the patterns are in two sizes (9 and 16.5 inches), with a formula to scale them in the size you want … so a big quilt with them is also a good option. They also include, the cutting templates and a design sheet, nearly 40 pages in every pattern. Moreover, I am adding to all the purchases of the origami animals a pattern quilt to make an under the sea beautiful quilt, with one or some of the origami animals.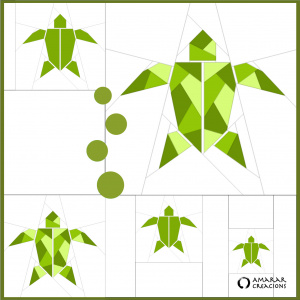 I really hope you enjoy this blog hop and I will be expecting all your creations with this summer patterns. Share your creations with the hashtag #quiltblockmania and enjoy seeing the ones of other sewers all over the world. And we have also created a Facebook group where you can see the patterns which are part of Blog Hop, share your creations made with these patterns and see those of other sewers, join the Quilt Block Mania group!
Oh, and be aware the more  month, with the theme "Back to School"!
What do you think about this Hop Blog? Leave your comment, I will be very happy to hear from you!
See you soon, and take care of yourself!