Hi!
A new edition of the Blog Hop Quilt Mania has arrived, and this time with the theme Back to School. Are you ready to make a quilt, some accessories or some pillows with these blocks dedicated to school? This year, with the situation, I don't know if the children will be able to go back to school, and if they do it under what conditions they will. Here things are getting bad and it seems that public awareness of respect is conspicuous by its absence. But we will see, better not to venture to say too many things. ¡Let's get down to business!
This time the Blog Hop comes even stronger than the last, we have become 37 participants, 37 free paterns, and for me it is very exciting to be part of this group of great designers.
And what is it that reminds you of going back to school? I wanted to create a block with an element that many children have played throughout their childhood and that is an Origami Paper Plane. Didn't you make paper planes? My kids love them and they remind me of a classroom full of kids having fun, laughing, and planes flying around.
As there are already many traditional origami paper airplane patterns I wanted to create an original one because you have a different pattern. The drawing is created entirely by me based on a real plane, and here I want to thank Sarah, @acorncornerquilts, for her advices and help, as I tell her she is the godmother of many of these creatures I am creating lately.
And here you have my Origami Papar Airplane, a  12″ (30.5 cm) block and that is made entirely with foundation paper piecing. The level of difficulty is easy, ideal to start with the technique. Do you like it? Do you cheer to sew it? I am waiting to see all your creations with it!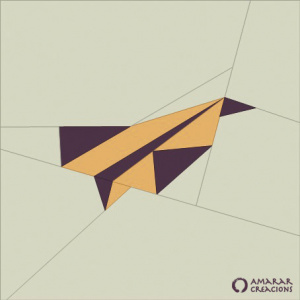 I am offering this pattern as a gift to all my newsletter community, so, to get my pattern, you only has to subscribe to my news and you will receive a direct link to download the pattern. You will receive the pattern in the language you subscribe (English, Spanish or Catalan) and if you subscribe in English you could choose between the Letter or A4 sheet sizes for the pattern. And if you are already a subscriber you must have received an email with a link to download the pattern, if not, check the spam folder or let me know.
Here you can see the blocks sewn by my testers, Joanne (@turtlequilterjo), a great quilter who, from my beginnings, helps me test my patterns, and Augusto (@capaquilts), who is a designer of modern quilts pattern and got started with the paper piecing technique with this pattern, you can't miss his creations that will be soon available and are really awesome! Two different blogs that show you the possibilities you have with this pattern and I hope they inspire you.
While I was designing this paper plane, came to my mind the idea of ​​making a whole quilt pattern with several planes… And thinking and thinking, and with the times we are living, and my life experience, this is the design that came out: a few planes flying in a group towards a stormy cloud and one of them disengages from the group and flies away. I've called it Flying my Way Quilt. It is a childish design with a background meaning. What do you think, do you like it? The pattern is to make a hanging quilt or a baby quilt of 40″ x 45″ (102 x 115 cm) and uses traditional piecing in addition to Foundation paper piecing. Its difficulty is medium since it has a piece with a curve, but apart from this it is easy to assemble and comes with all the necessary templates, very detailed instructions and a design sheet so that you can design your own version. With the launch of the Blog Hop  I offer you this pattern with a 30% discount that will be active for the whole month until the start of the next Blog Hop. You can see more details of this new pattern HERE. I hope with all my heart that you like it! It was a great challenge to have it completed on time!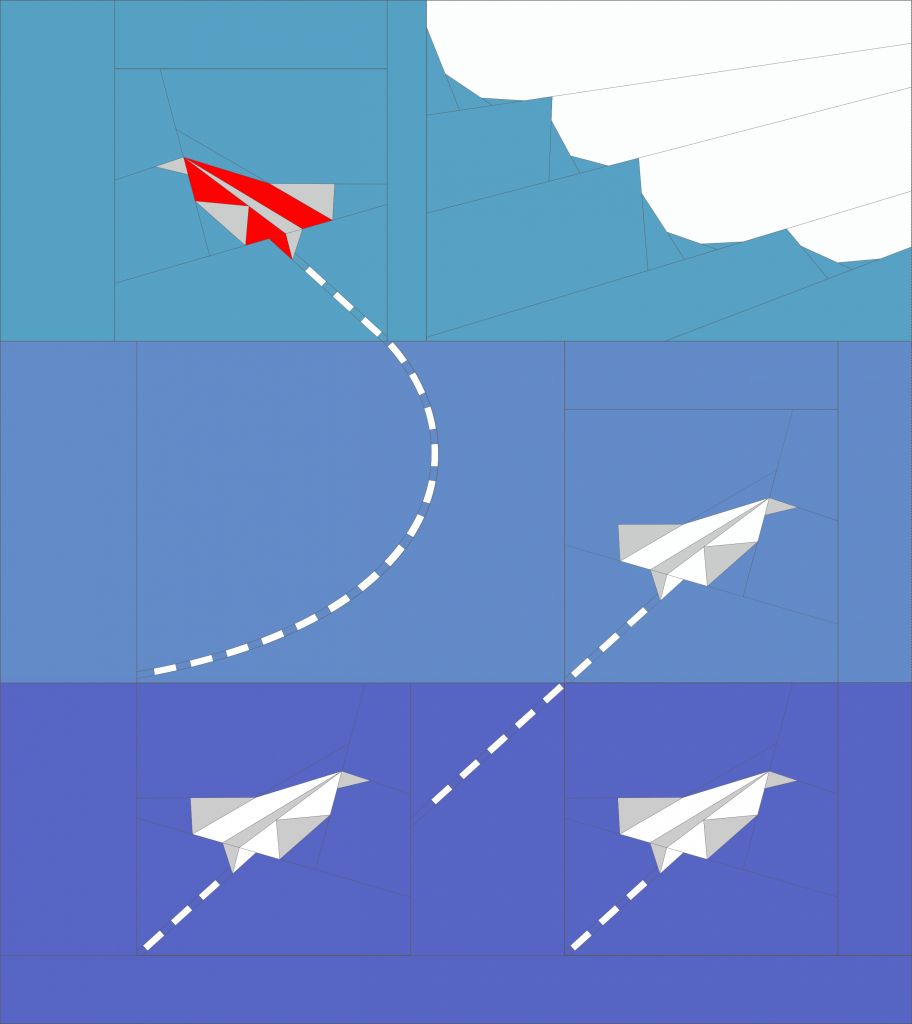 And if you are not familiar with the Foundation Paper Piecing technique and you want to learn it or practice a little more, I invite you to join my Facebook group where you will find 5 lessons and a free pattern to learn/practice the FPP technique. Also, there, I can help you with any questions you may have with my patterns or this fantastic technique that allows us to sew wonders with high precision.
How the Blog Hop works
Every designer is offering at her blog the unique pattern she has designed for this event, for free.And all the patterns has been released on 4 August.
All the patterns are available for free until the release of the next Quilt Blog Mania on September. Then, some of the past month patterns will remain free.
To get every pattern you have to visit the blog post of the designer and follow her instructions to download it.
And that's all! You only have to imagine, choose the patterns and start sewing! I can't be more expecting to see all your creations!
Here you have a list with all the designers participating in the event, a graphic/photo of the pattern every one is offering and a link to the designer blog.
I really hope you enjoy this blog hop and I will be expecting all your creations with this patterns. Share your creations with the hashtag #quiltblockmania and enjoy seeing the ones of other sewers all over the world. We have also created a Facebook group where you can see the patterns which are part of Blog Hop, share your creations made with these patterns and see those of other sewers, join the Quilt Block Mania group!
Oh, and be aware the next month, with a new Blog Hop labbled "Halloween"!
What do you think about this Hop Blog? And my new pattern, Fly Away Quilt? Leave your comment, I will be very happy to hear from you!
See you soon, and take care of yourself!