Hi again!
As you may have seen, the 4th pattern of the Origami Animals Collection is a Crab. This time the choice of the animal has come from several sides. On one hand, it was the second most voted animal among the participants of my Facebook group dedicated to the Foundation Paper Piecing (the first was Seahorse), and it was a special request from Fátima, one of the testers that It helps me to check the patterns before putting them at your disposal. And for me, thinking of those crabs that roamed when I was a girl above the rocks of Portocolom, I loved the idea.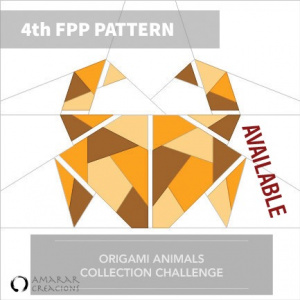 You already know that the specific features and versions of the pattern can be found on the product page, which you can access by clicking HERE.
In today's post, I want to make a little honor to two people who help me a lot, and in a selfless way, in the testing of the Foundation Paper Piecing patterns that I am developing. Their help consists in that once I have created the pieces of the patterns, and while I'm editing them, I send them this first version of the pieces and they sew the pattern to see if everything is correct. If they find a mistake they communicate it to me and I do the changes. But his help is not only limited to sewing, the support they give me and the advice that conveys me, helps me and accompany me in this new adventure. Here I present them and show you the tests that they have been done with my employers:
Joanne, is a woman who resides in Ontario (Canada), and after retiring she has decided to become a tester of patterns from other designers to stay active. And so active that is she, that despite some health problems that arise from time to time, she works to help many designers of quilt patterns and foundation paper piecing patterns, as well as participating in sewing groups. I invite you to visit her blog and see the wonders she does: www.quiltsbyjoanne.blogspot.ca. You can also find her on Instagram as @turtlequilterjo.
And here is the photo with the tests she has made with the Origami Animals. An explosion of colors that put all together on one side have me in love!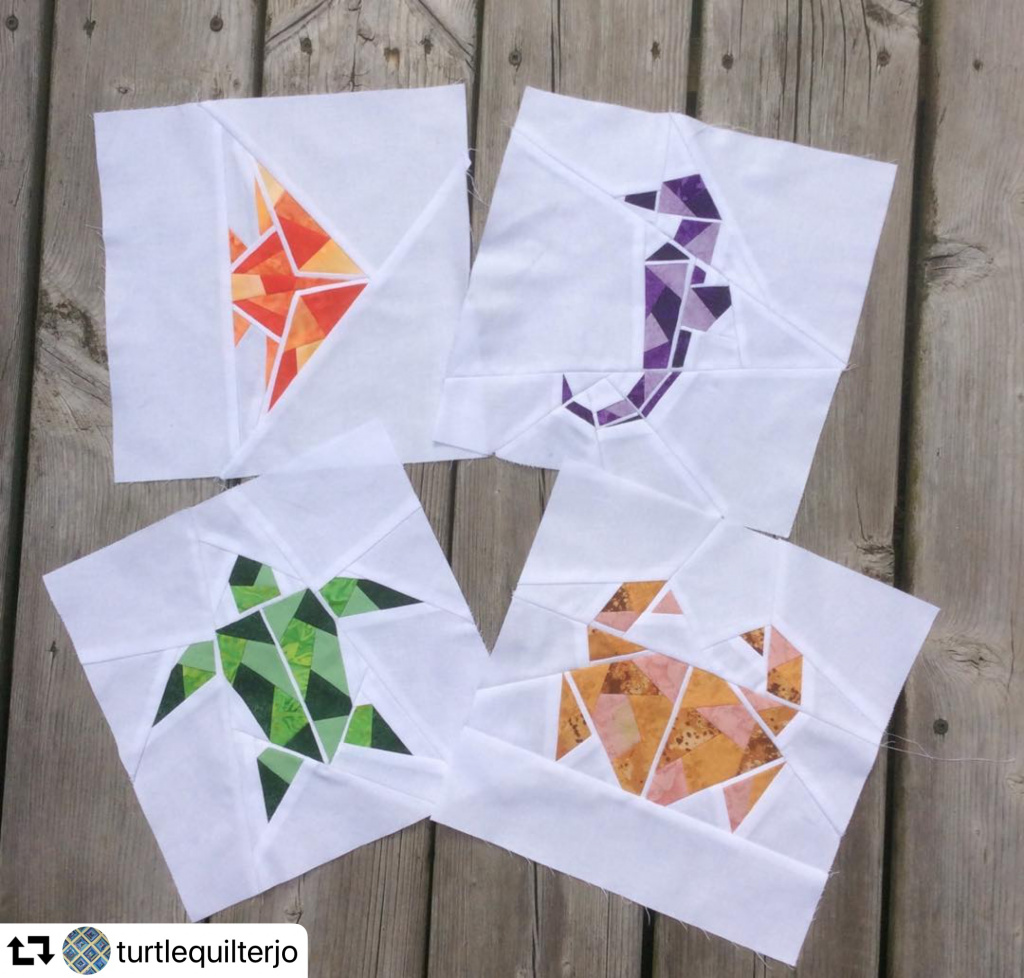 And the other tester is in Fatima. And what can I tell you about Fatima, I must say that without knowing her in person and living on the other side of the world has become a great friend and confident. I met her on Instagram, just like Joanne, and we connected immediately. And how to avoid to connect with people who want to help you, investing some of their time and fabrics helping you to make your business go well, and not only that but also worrying about you and giving you a much needed support when you want to start a business like this. I think there aren't a lot of this kind of people nowadays. Fatima, also retired, lives in Montana, the United States, and also dedicates part of her time to the world of quilting, but especially focused on quilting with a long arm machine (I'll talk to you someday of this kind of quilting). If you want to know a little more about her and folow her work you can find her on Instagram as @love2quilt314.
And here are the animals she elaborated testing my patterns. Some really inspiring beauties.
I hope I can enjoy the company and friendship of these people for a long time. And I encourage you to join each other and help everyone to achieve a more humble society and leave a better world for our children.
Do you want more animals? Stay watching …
Some of my patterns