Today is Christmas, one of the dates of the tradition of the Christian religion that has rooted more within our society. A day where you want to celebrate the love and reunion of the family, although looking everywhere it gives me the impression that capitalism is empowering more and more. I do not consider myself a religious person but today, and to make an ode to life and love, I want to show ypu one of my last works, two quilts of tree of life.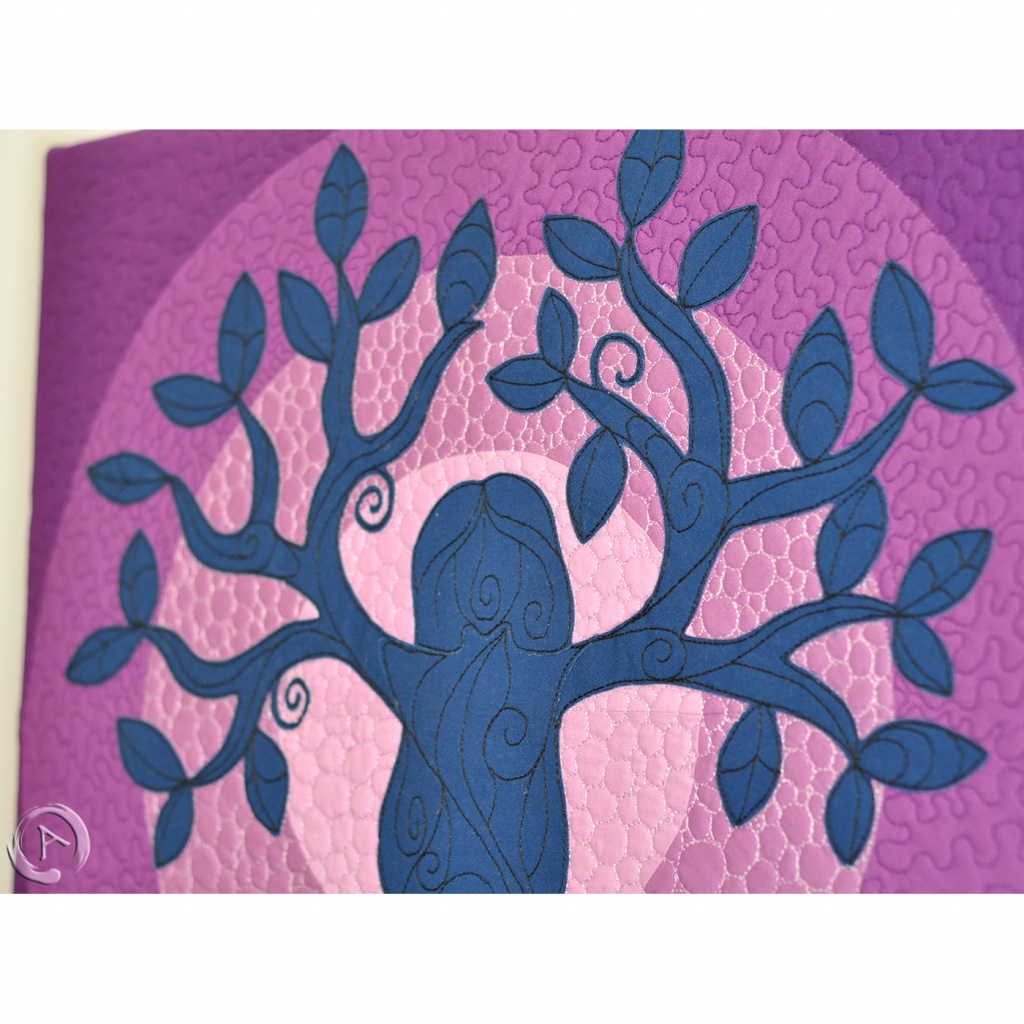 Five years ago I made the first tree of life, by the midwife that accompanied me in my first pregnancy and birth. It was a materialization of a whole bunch of emotions, feelings and greetings to a person who gave me all his support at those moments when a woman so need it. This quilt began to accompany her in her daily work and in the lives of her patients and colleagues. One of these fellows fell in love with it, and for her pregnancy she commended me to prepare two trees for the midwifes that had to accompany her on her birth. What a pleasure to make this work again, and how many memories were revived when it was made.
S asked me if they could be one of green and one of lilac. And I started to choose fabrics and colors. Searching and searching I burdened a collection of fabrics that with 340 colors offered me exactly what I was looking for. The problem was that I could not see the colors in live because here there is no physical store that has all the fabrics, and at this point I have to thank the great help that was offered to me by Nicole (a California violinist dedicated to teaching with the quilts elaboration hobby and that I have known through Instagram), sending me pictures of the colors that I thought could go well and encouraging me to make the final election. Thank you Nicole!
Picked up the color and once with the cloths in my hand I got to work. Cutting the pattern for the background, cutting the fabrics for the background, stitching the background, cuttinf the tree, sticking it to its place, embroidering the drawing and finishing quilting the background.
The quilts are the elaborations that I like more do and especially the quilting part, because it looks for me like a kind of meditation because I need to have a very high level of concentration leaving the mind blank and without thinking about anything, that when I distract myself, it's when I have to unsew it.
What I like most about art is that it inspires different thoughts and emotions according to the person who looks at it. In this case, for me, these trees are all an ode to life and femininity, with the representation of the roots between mothers and sons and the strength of the mother that transmits to the children (branches) until they embark on their way (leaves). What inspires you?

Here you have the detailed photos of these two quilts which I love to elaborate and I would like to express my heartfelt thanks to S for fer beliving in my work. Thank you so much!!
Encourage everyone who likes to sew or have you ever tried to get in the world of patchwork and quilting, it is a hobby very entertaining and rewarding.
Merry Christmas to you all!!!