I have exciting news!
I am organising my first QAL (Quilt-ALong) with my just  released pattern. The Creepy Eyes Quilt Pattern.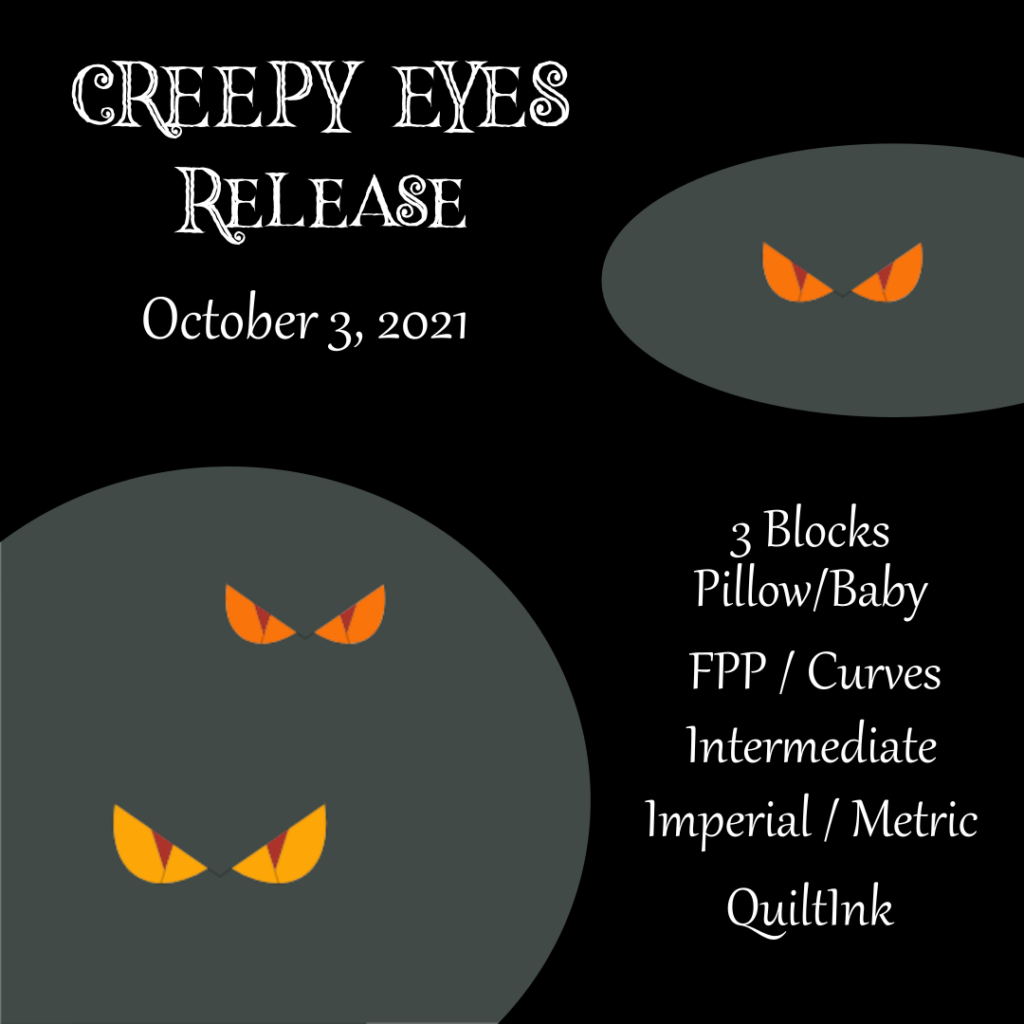 Creepy Eyes is a pattern based on the Eyes block I made last year but with a lot of improvements to offer you a complete quilt pattern!
3 Blocks (9″x3″, 12″x4″ and 15″x5″), Pillow (21″x21″) and Baby (42″49″) Sizes for you to make whatever you can image. And I plan a

surprise

for the QAL to help you making any size!
A really international pattern! It's set up on imperial and metric systems and you can get it in Letter sheet size and also in A4.
Scared by the curves? Don't be! I was looking for experienced testers for the pattern, and when I got the group set up I knew some of them hadn't ever sewn a curve… and I got worried! But, you know what!! They ALL did the eyes, and told me they are so easy to sew….
Available to colour on QuiltInk, 

which will make the planning even more fun. We will talk a lot about colour in the QAL!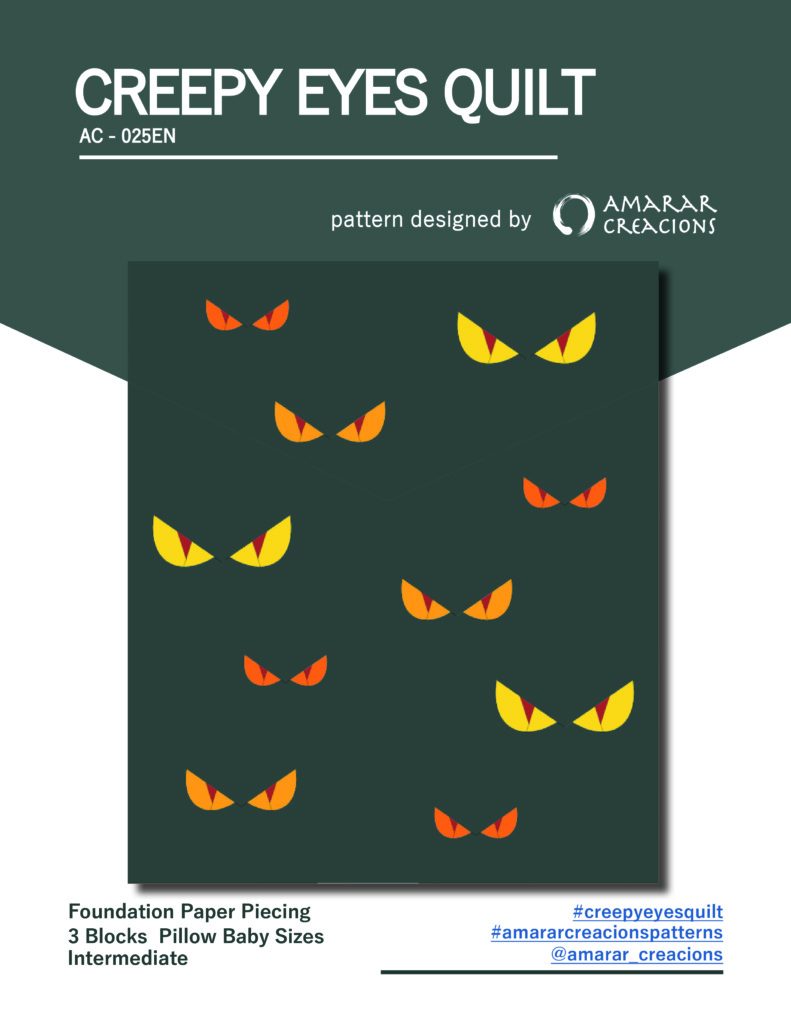 So, would you like to sew a Creepy Eyes project by this coming Halloween? A mug rug, a bag, a wall hanging, a baby quilt/wall hanging or whatever else you can imagine!
Pattern will be with 15% off until October 10th, don't let it go, and join the funniest QAL!
Creepy Eyes QAL
After the release of the Creepy Eyes I am so excited I have decided to organise my first QAL. Yes! it's my first time and I am really nervous about it!! So, If you would like to advise me, it will be very welcome!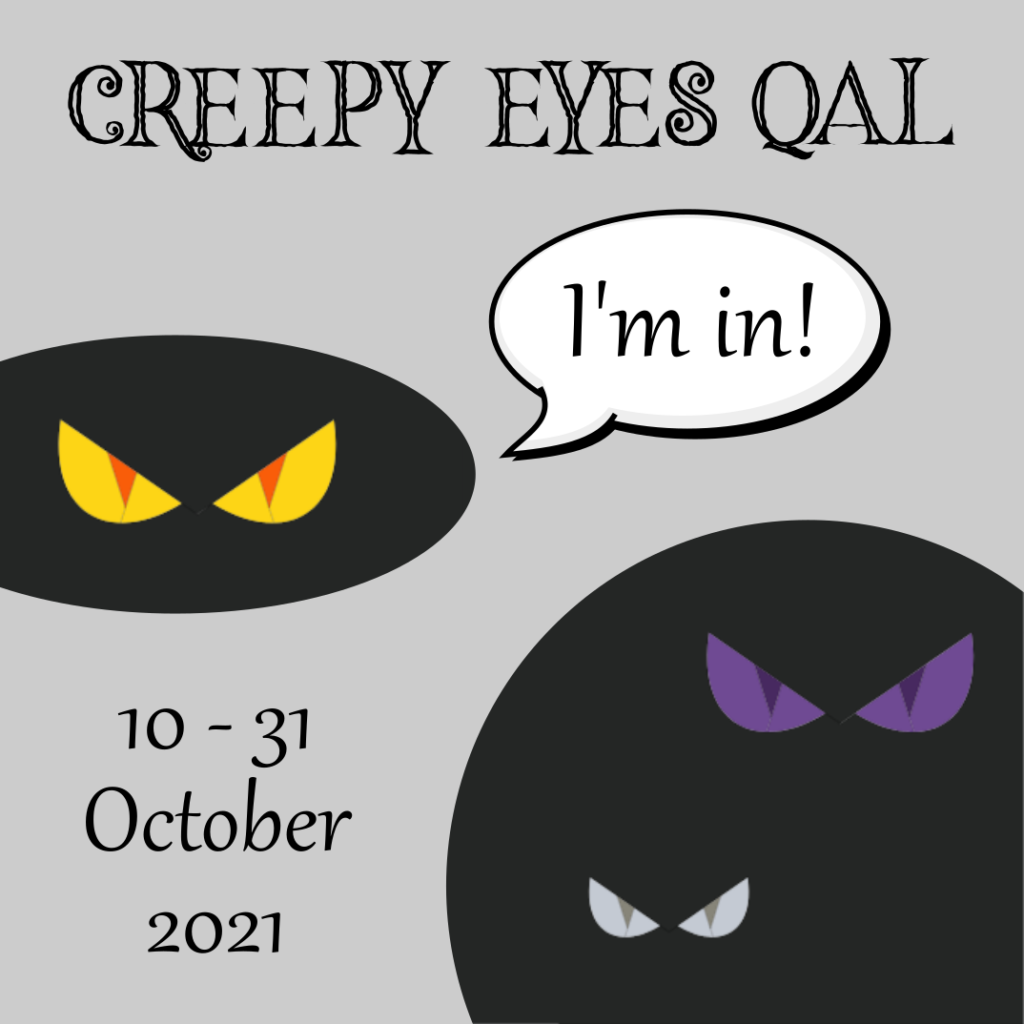 This will be a flash Quilt Along, only 3 weeks, and it will be set up in 4 stages, starting on October 10th and finishing on October 31th. Even if you are going to make the baby quilt size or even bigger, there is enough time. It's a really fast project. Once you have sewn the eyes, the other assembly pieces are really quick. 
This QAL is sponsored with 2 online quilt related shops I adore. They are people that in every one of my beggining they trusted my work and supported me helping to sell my patterns, and now here they are suporting me in my first QAL and I can be more pleased with them.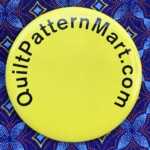 Stages 1 and 2 is sponsored by Quilt Pattern Mart with a gift card for you to chose two pdf patterns in her online shop. Quilt Pattern Mart an online modern pattern shop where you can find the most popular modern and contemporary quilt pattern in the quilting world. Heather is the one running the shop and she is working hard to offer you the best patterns. Take a look to her website and show her a lot of love in social media @quiltpatternmart.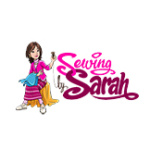 Stages 3 and 4 are sponsored by Sewing by Sarah with a $50 gift card in her online shop. Allison is the owner of this amazing quilt realted online shop where you can find presser feets, cutting rulers, free motion quilting rulers, patterns and books  (including mine), a variety of sewing/quilting tools, fabrics and some apparel and gifts for quilters. I wrote a blog post about my prefered things in ther shop and sure you will find something really useful for you. Take a look to her website and show her a lot of love in social media @sewingbysarahstore.
All those who participate in the QAL and share photos on Instagram of your progess in every stage using the hashtag #creepyeyesQAL will be elegible for one of the amazing prizes our sponsors are giving.
The first thing you will need is the Creepy Eyes pattern, which you can now start readingand start thinking about which project you will do.
And, mark the following dates on your calendar:
Stage 1 –

October 10 – 12

: Choose your project and your fabric. I will be giving you ideas about what you could make with the Creepy Eyes block(s) and showing you some examples of baby sizes. We will also talk about colour and you will be able to plan it with

 QuiltInk.
Stage 2 – 

October 13 – 17

: the cutting! The pattern provides detailed instructions about how to cut your fabrics. And I will be showing you it with photos, step by step, how to do that. You will see how it's faster and easier than it seems. And if you have never sewn curves this is the ideal time to learn its with me!
Stage 3 –

October 18 – 24

: The Piecing. This pattern has 3 different sewing parts. the Foundation Paper Piecing for the eyes, the curve piecing finishing the eyes blocks and the traditional piecing for the background. I will be giving you tips for every part.
Stage 4 – 

October 25 – 31

: Finishing the project. Making the pillow case, finishing the fabric bag or quilting the quilt! You will have it ready for Halloween!
And I am planning amazing prizes!
I have my fabrics ready to make a baby size quilt, like you see on the pattern cover. I will use cool fabrics which I have already! And I plan for my kids to be part of this project too! They have been asking for a long time to learn how to sew and this is the best chance to get them started. A project for them which they will love!
Sign up to the Creepy Eyes newsletter group and you will receive all the news about it!
And here you have some inspiration (thanks to my testers) so you can start thinking about which creepy eyes project you are going to make during the next few weeks!
Let's QAL a fun Creepy Eyes project and enjoy together the wonderful of quilting! Be ready, it starts very soon!