I am so happy to start the year 2022 with the launch of a new pattern, the Powers of Seasons, and this time like a part of a quilt designers group, the Daughters of Helios.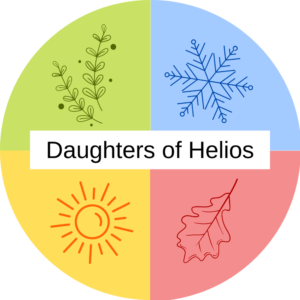 First last year, Rachelle Craig, from Rachelle Handmade, contacted me with the proposal to participate in a project she had in mind, to create a series of Foundation Paper Piecing patterns about the seasons. And of course I said yes without any doubt. I love to explore new adventures and I have never participated in a collaboration like this before.
The full Daughters of Helios team was set up by 2 more members, Julia Wachs from Julia Wachs Designs and Crstina de Miranda  from Ships and Violins. It's been really exciting working with these ladies all these months, with live meetings which have helped me to improve my speaking English and go out of my comfort zone.
The pattern is set up in 4 seasonal panels, and every season is designed by one of the members of the Daughters of Helios.
The panels are foundation paper pieced and every one of them is sized at 16″x26″. Their level is intermediate and requires some experience in foundation paper piecing. But as I always say, quilting is a matter of patience, if you want to do something you have never done you only need to have a lot of patience and believe you can do it!!
Remember, in my Facebook group you can find a free pattern and free lessons to learn my Foundation Paper Piecing technique and there, you can ask me any questions you might have.
During the process, we decided every one of us would make one full set of the panels. It's a way we test each other's patterns and we don't need external testers for these patterns. So, I encourage you to visit the website that we have created for the occasion and see the versions of my colleagues.
For my samples, I wanted to make something different than my usual colour/fabric choices, so I decided to use printed fabrics for the panel backgrounds, and not any printed fabrics, I wanted to use Japanese printed fabrics. I was lucky to find a nice shop here in Spain, Japonerias, that provides the most beautiful ever real Japanese fabrics I've ever seen. And among them, I found a collection with dark indigo background and different japanese motifs that was perfect for my project.
For the figures in my panels, I wanted to use Kona Cotton solids by Robert Kaufmann. As you know, I live on a Mediterranean Island, Mallorca, which belongs to Spain. When I have a need for fabrics I have to order them online. And looking for a lot of different colours I had big problems that could provide me all those colours in a short time. Luckily, I found Quiltzauberei in Germany. They have ALL the Kona solids fabrics and the service is excellent, so European people, if you need Kona fabrics take a look at this amazing online shop. It's in Germany, but Google translator helps a lot with that! 😉
Japanese Fabrics from Japonerias
Kona solids from Quiltzaubereit
To decide about the colours and fabrics, I first used QuiltInk. It's an app that allows you to digitally colour a lot of quilt patterns in an easy, fast and fun way. And of course we wanted to offer this opportunity to you! it's the best way for a customer to plan a quilt, you only need your mobile device or computer and a lot of imagination to create as many colour layouts as you can imagine. Try it and you will see how easy it is. If you want to save your colour versions, register on the app and you will have them all in your account. It's FREE!!
I decided to make every one of the seasons with one of those Japanese fabrics for the background and one colour with its gradations for the shapes. So, for the Spring I picked pinks (Baby pink, Pearl Pink and Dragon Fruit) with the spiral background, reminding me of the wind in the spring that makes go down all the petals. For the Summer, the greens (Mint, Holly Green and Aspargus) with the seigaiha motif like if there were sea waves all around. For the Autumn I chose the yellows (Butter, Daffodil and Gold) plus the asanoha Japanese fabrics, and for the Winter, the blue fabrics (Blueprint, Blue and Sky) plus the background fabric with little spots that remind us of the falling snow.
Notice  I wanted to connect all the designs with one colour, the Cerise. Every design has 3 elements with this colour. It's a way to think in nature, like everything in this world is connected!
And after working about 10 hours in every top for the complexity of placing the background fabrics for they all look in the same direction, here is the final result!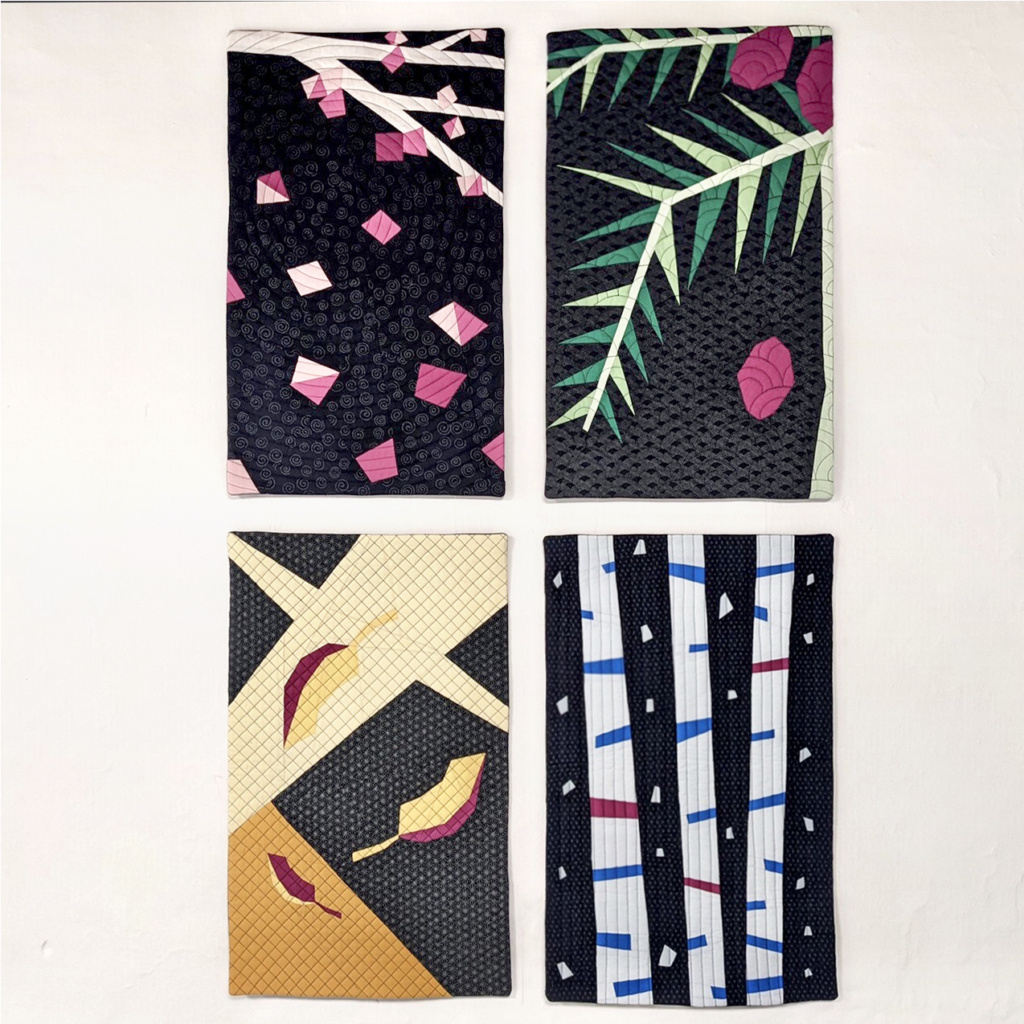 They are quilted matching the background motif. The Spring with a spiral, which starts in a special point (keep reading), the Summer with a Baptist Fun motif to recreate the sea waves, the Autumn with a diagonal grid to match the asanoha Japanese motif and for the Winter, vertical lines to remind us the vertical direction of the snow falling from the sky.
Finally. they are finished with a face binding to give them a modern look.
Do you like them? Visit the Daughter of Helios website to learn more about the other designers, see their versions created specially for this occasion and get the Power of Seasons Pattern.
Have you noticed anything special in the designs? When we were thinking about the size we had the idea of size them in a special way and we chose the golden ration for it. Every panel is 16″ x 26″, and this sizes has a golden ratio proprtion. In nature, the golden ration is present in a lot of things: DNA molecules, snail shells, pinecones, hurricane spirals even the galaxy spirals, among a lot other thing. Since the Power of Seasons patterns are nature related we loved the idea.
I wanted to go further and added this porportion in two other elemnts in my samples. One is the spiral quilting for the Spring. it starts in the golden ratio crosing point, and I have to say you I fell like it give to the quilting a feeling of harmony and balance that I can't stop looking at it.
The other element that has the golden ration is the backing of my panels. Every one of them is set up with the front colours and every piece is golden ration proportion with the others, colour betiween them and the 2 backgraund pieces between them too. I started making special backings for my quilts in sample for the
Starlike quilt pattern
and I love it! It's like a two sided quilt with a special secret meaning.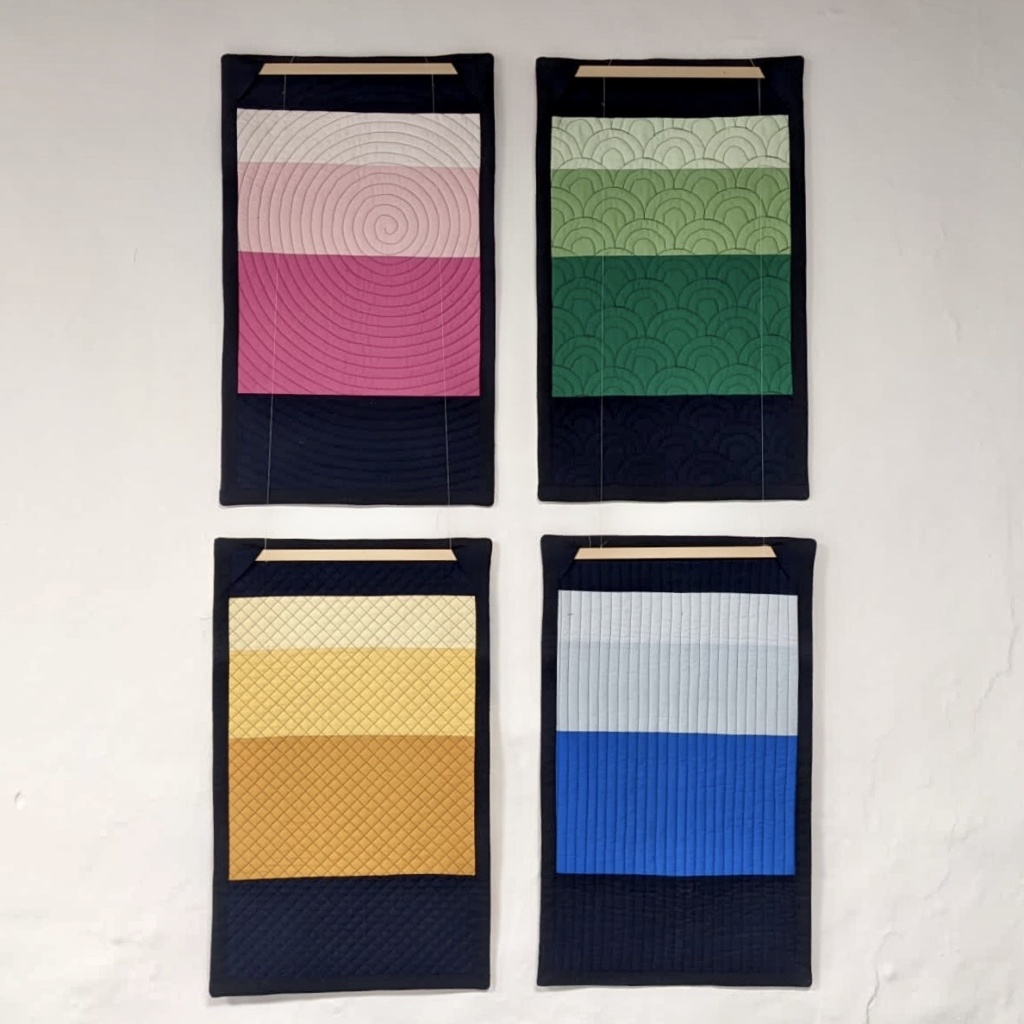 If you like the Power of Seasons Collection you can get the pattern from the Daughters of Helios website. There you can learn more about the other designers, see their samples and get all the info you need. And if you have any questions you can always 
contact me
 or send us a message from the Daughters of Helios 
contact form
. 
Thank you so much for reading my words and following my job. If you are still not part of my
newsletter
I invite you to
join
and you will get an email when I have news to tell, plus a free pattern, a good discount on your next purchase and better discount codes when I launch a pattern!
Good quilting and best wishes to you all!!