One of the things I like most in this quilting world are the collaborations that I've been doing all over these years with other quilters and related quilting business, and the ones I hope to make in the future!
In the quilting world, although there are some big companies, it's based on small business of pattern designers, fabrics shops, quilting tools shops, quilting courses, etc. like me! And one of the things I've learned is that collaborating all together is a win-win, and it allows you to meet wonderful people all over the world.
Meet Sewing by Sarah
Today, I want to talk about Sewing by Sarah, a quilting tools online shop, owned by Allison. I met Allison some years ago when I was starting designing patterns. She was one of the first people that trusted my patterns were so good to be sold and offered me the possibility to sell my patterns from her online shop too. It helped me to offer my work to the world and her trust helped me to keep going in this business.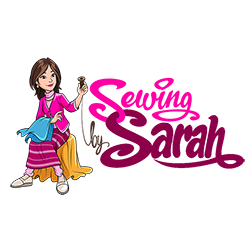 In her website, Allison sells a lot of amazing quilting tools. You can find presser feets, cutting rulers, free motion quilting rulers, patterns and books  (including mine), a variety of sewing/quilting tools, fabrics and some apparel and gifts for quilters. She also has a blog and runs some QALs.
If I had to show you some of her stuff to recommend to you, I would choose the Gruuvy Rulers she has started to design and sell recently. I think they are really useful because you have all the cutting sizes in the same ruler, so you don't have to own a ruler for every size. Since the ruler is slotted, it's also great for cutting strips, squares and rectangles from fat quarters and fat eighths at 1/4″ and 1/2″ increments. And it's made in the USA from clear, flexible material.
From the other quilting tools, I have to say I fell in love the moment I saw it with the Wool Press 'n Lock Tiles! What a great invention! With these tiles over a table you can easily and faster iron a whole quilt or you can use one of the tiles to place near the sewing machine and iron the small pieces. They are 1/2″ thickness, with a size of 10″ x 10″ and made of 100% wool. They are exclusively at Sewing by Sarah and made in the USA. 
You can visit her website to learn more about all the stuff and watch the amazing videos about how to use it.
Please note, the links to Sewing by Sarah are affiliate links, which means I will earn a small commission on each order. This has no effect on your purchasing experience and it helps me to continue with my work.
Thank you so much to you all for support small business in the quinting world and help us to keep going offering you original quilting patterns and the best quilting tools!
Hope you are having a very good summer and start thinking on your next quilting project!
Catalina