My Starlike Quilt pattern has just been released in Issue 36 of Make Modern Magazine. I can't be more excited with this! As many of you know I've been writing patterns for about 2 years, all of them by foundation paper piecing technique and blocks. This pattern is my first big quilt pattern with traditional piecing technique.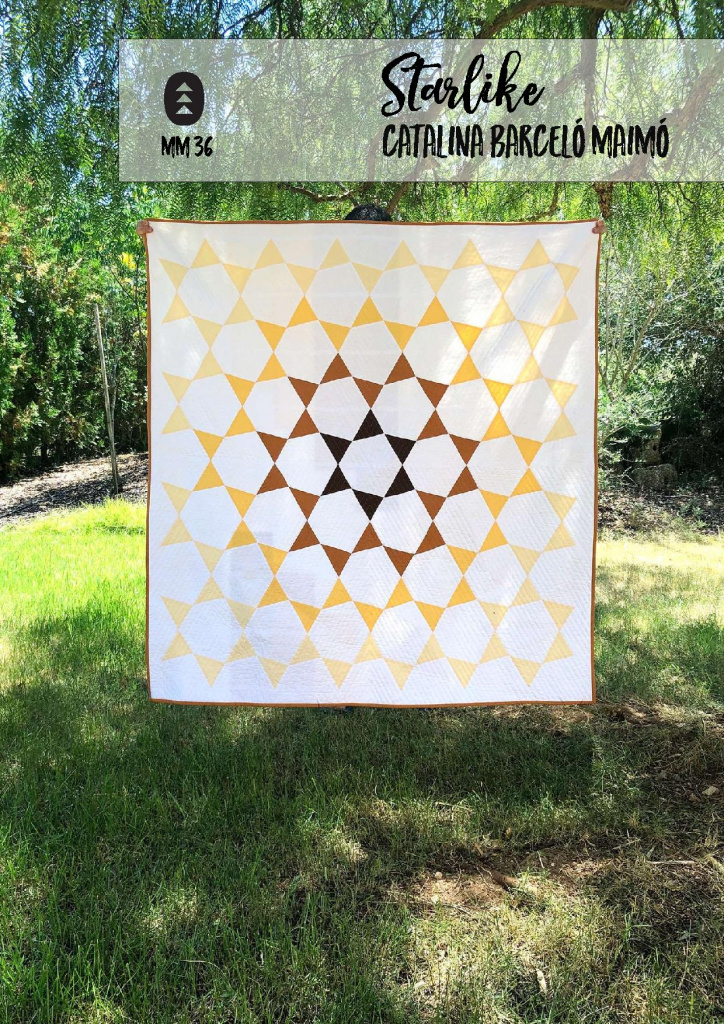 This pattern was an idea I had had in my head for a long time and never found the moment to see it done. The inspiration of the Starlike design comes from my love for maths and geometrics, and thinking in using the triangle shape, but not in regular shape. It was hard to draw the triangles in order to all the tips matches, but after making some maths I figured out how to do it and the idea became a real draw! It was very funny playing with colors and the little triangles… As you can see, the design is thought to make the pattern using 4 colours in a gradient way. The gradient can be made in many differents ways that makes many differents designs to come out. So, this is a higly customizing design that allows making very different quilts from the one I made with the same templates, only playing with colours.
When I had the design made, the time was passing and one day I decided it had to come a real pattern. But I saw a quilting friend had published in Make Modern Magazine and I thought I could try sending the design and see if they would like it. I sent them a set of possiblilities with different colour layouts that could be made with this design. And you can't imagine my happiness when I received their feedback telling me they loved the design! I couldn't believe my first quilt pattern was going to be published in a quilting magazine, and more, in Make Modern Magazine!
Then, came the part where I had to think about how to piece the draw. At first, I was thinking in making it with foundation paper piecing, but as it could be made with regular triangles, I decided to make it in traditional piecing. The part making the templates wasn't as hard as it seemed at the first time, and using the foundation paper piecing templates and a drawing software it was relatively simple. The hardest part was to make the angled corners in a way they allow you right face the fabrics to them in the easyest way. This idea to solve this became to my head when I made a first test of the quilt in a smallest size.
After the first test, and the improvement of the templates, came the part of start writing the pattern, choosing my fabrics for the quilt to debut, and searching for testers.
The writing part scared me a little bit, because I am not English native, and I know my English can be  much better, but I had the big help of my dear friend Fatima, who is a great quilter too (@love2quilt314), and she checked my texts as many times as were necessary to make sure they was as simple and understandable as possible.
The choosing of my fabrics was one of the hardests parts. As I told you before, the design is thought to make the pattern using 4 colours in a gradient way. The gradient can be made in many different ways so many differents designs can come out. I had so many possibilities in my head, but I decided to choose yellow tone colors thinking in that the pattern would be released near autumn and those were the better colors matching my garden summer colors. It was quarantine time and it was hard to get the fabrics in time, I was really worried about it, but finally they arrived to my home and I could start sewing!
The testers part, was one of the most beautiful parts of the process. I really think the testers are persons with a big big heart that are disposed to give you their time and fabrics for you so the pattern can become true, and this can only made by the best and generous persons. I enjoyed a lot their feedback, it encouraged me a lot, and see how theirs Starlike quilt was becoming alive was a ray of positive energy and strengh to keep going until the end. So I want to thank publicly you for all your help and suportive! Take a look at the stunning quilts they made with this pattern, and notice the polyvalence of the design.
It was a chalenge to have my Starlike Quilt finished in time before the deadline I had. And, It was thanks to my husband that wanted to help me cutting, ironing, planing the quilting (he is enginerii) that I managed to have it done in time. So, a big thank you to him, too!!
The last days before deadline was heartbreaking, finishing the quilting which I wanted to give it a geometric touch and using straight lines I made four big concentric triangles pointing to the center of the quilt, to create an explosion effect. And finally binding it in only one day, I thought my fingers was folling my down, but I finished!!
A funny part was the photoshoot. I chose my garden to do it, and I think I took more than 200 photos! Here you have a selection of the best ones which I sent to Make Modern Magazine.
If you want to get the pattern, as well some other amazing patterns and loads of great articles, you can buy the Issue 36 of Make Modern Magazine or make a temporary subscription (with a big discount), which will allow to receive every new Issue directly to your email and won't lose any of the fantastic patterns they publish. Visit the Make Modern Magazine page, and see all the amazing patterns you can find there!
Please note, the links to Make Modern Magazine are affiliate links, which means I will earn a small commission on each order. This has no effect on your purchasing experience and it helps me to continue with my work.
I really hope you enjoy this pattern. I would be happy to know your opinion about, if you have seen it in the Magazine, if you would like to sew it or the colours would you choose to make it. And remind you to use the hashtags #starlikequit and #amararcreacionspatterns, and if you mention me, @amarar_creacions, I will be notified about your post and could see all the beautis you are making.
Thank you so much for reading me and happy sewing to you all!